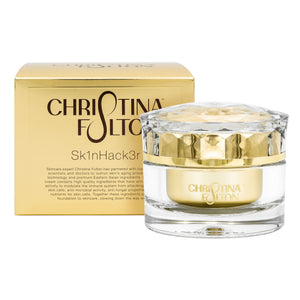 Sk1nHack3r Cream
Sale price Price $530.00 Regular price Unit price / per
Our flagship product, Sk1nHack3r, contains anti-aging ingredients which include Retinol, vitamins C, B, D, E, A, amino acids, hyaluronic acid, biotin, jojoba seed oil, sweet orange peel oil, pine bark extract oil, royal jelly extract, aloe vera leaf extract, oryzanol from rice bran oil, olive leaf extract, peptides, biophenols, and flavonoids, and many more that infuse the skin with anti-aging, anti-inflammation and anti-microbial properties.
Used day and night, the Sk1nHack3r formula protects layers of the skin (dermis) against overactive immune systems reacting to environmental irritants like pollution, sun, poor diet, stress, lack of exercise, and sleep deficiency to name a few. The antioxidants protect vital cellular machinery such as DNA and proteins from free radicals formed during cellular processes. Together these agents help modulate the skin's immune system, increase collagen and glycosaminoglycan production, encouraging exfoliation of the stratum corneum. Sk1nHack3r can also combat acne, dermatitis and many other skin conditions, keeping the skin youthful.
A recent report from Caltech University Biochemist, Tri Vu, Ph.D., found that Sk1nHack3r provides the nutrition to aid fibroblast growth. These cells produce the extracellular matrix and collagen and play a critical role in wound healing. The results imply that, Sk1nHack3r will do the same for your skin, helping to reverse signs of aging and wrinkles.